Used Auto Parts for Ford
Ford's Top Car Parts Dealer in the Milwaukee Area
Ford is one of the largest automobile manufacturers in the world, delivering a dependable and affordable line of cars and trucks since 1903. Ford offers mass appeal and high quality products delivering only top performance and power. Due to the company's dedication and perseverance to introduce reliable, attractive cars to the market, Ford quickly became a well-known vehicle manufacturer over the years. Ford continues to produce excellent models not only fitting the buyer's needs, but their taste too. Ford vehicles can be recognized for their practical yet luxurious features and designs all while maintaining affordability. Ford also ensures each of their vehicle models and platforms has unique designs distinctive from one another to set them apart from the plethora of cars and trucks on the market today.
The manufacturing process is what also sets Ford apart. Their manufacturing assembly line allowed individual workers to stay in one place and repeat the same job on the multiple vehicles which passed through their station. Providing competitive efficiency, this new technique of mass production revolutionized the American car industry manufacturing process.
With the great features and popularity of certain Ford cars, Ford has reproduced classic Ford models like the Ford Mustang. First available in 1965 the Shelby Mustang became a performance icon and did not become again available until 2007 when it was reintroduced.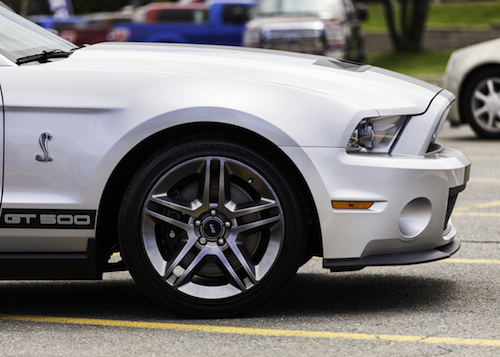 Fun Ford Facts
Henry Ford developed his first gasoline powered horseless carriage in 1896 called the Quadricycle. This 4 cycle gas-powered vehicle was built in a shed behind his home.
Ford is the second largest family owned company in the world.
The Model A was another vehicle produced by Ford and probably the most iconic base of sought after hot rods known today.
Some of the more iconic vehicles like the Mustang and Thunderbird were revolutionary when they were first introduced and overtime continue to live up to their status.
The only car Jim Morrison ever owned was a 1967 Shelby GT 500 Ford Mustang.
In Ford entered The 24 Hours of Le Mans race with the Ford GT40 and won.
Henry Ford was always inventing new things and trying to expand his reach. He even branched off and started building airplanes. Ford held 161 different patents in his life.
Search for Used Ford Parts Online
B&M Auto Sales & Parts is one of Milwaukee's largest car part dealerships and proudly carries Ford parts. We are committed to being your trusted auto salvage. And, if we don't have the part you need, we'll find it. Our advanced technology provides us the opportunity to serve customers all over the world. The ADP Hollander Interchange computer system allows us to quickly find used Ford auto parts by searching the inventory from auto parts recyclers all over the country.