Used Car Body Parts for Milwaukee and Surrounding Areas
Your Reliable Source For Quality Used Auto Parts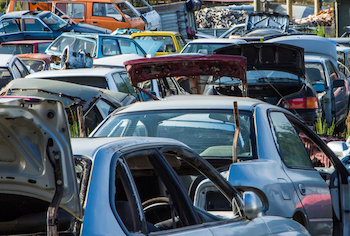 Buying used car body parts is a great way to affordably keep your car performing at its best. With our large range of domestic and import models, we are able to supply used parts for many different types of vehicles. From Ford and Jeep to Volkswagen and BMW models, you can rest assured we have the part you need. Our huge salvage yard and body shop allow us the unique opportunity to not only maintain our giant selection of parts but continue to grow it.
Conveniently located just West of Milwaukee, the quality used part your car depends on is just a short drive for most of Southeastern Wisconsin.
Commonly Damaged Auto Body Parts
Unfortunately, car accidents happen. Americans get involved in over 5 million auto accidents per year which includes everything from minor accidents to serious fatal ones. While accidents are caused by any number of factors, there are certain parts of a vehicle that more frequently become damaged. The most commonly damaged body parts in car accidents are:
Front and rear bumpers
Fender
Hood and Trunk Lids
Doors
Headlights/taillights
Truck Replacement Body Parts
When repairing your own truck you want nothing but the best parts, at the best price to give you top performance you can depend on and afford. At B&M Auto Sales & Parts you'll get just that. Our inventory and salvage yard holds a vast amount of used trucks in a variety of makes and models. We salvage and buy junk trucks daily providing hundreds of salvaged truck parts to choose from. Our expert team can help you find any specific part you may need. Whether you are building, restoring, or just repairing your truck come check us out! We have quality, affordable used parts for your every truck need. And, if we don't have the part in stock, we'll find it for you.
Get OEM Replacement Body Parts Locally
Our enormous salvage yards represent your best chance at finding a door, bumper, or hood for your make and model vehicle. We continue to add cars and trucks to our inventory every day. Getting a brand new door can set you back hundreds of dollars and take a long time for the part to arrive. Come to B&M Auto Sales & Parts instead and purchase an affordable, used car door to fit your vehicle with no unnecessary waiting and without overpaying.
Choose the Right Used Body Part
When looking to replace a damaged door, hood, or other body part for your car, finding the precise color and model year is crucial. For years, our customers know they can trust B&M Auto Sales & Parts to have exactly the auto part they need. We have the best selection of salvage car makes and models in all of southeast Wisconsin. If auto parts aren't your area of expertise, let our friendly staff know what you need and we'll find it for you. With our massive selection of salvage cars, you're sure to find the fender or bumper you need.
If we don't have your part on site, we have the capability to locate it for you. Our online parts locater has access to distributors around the world helping customers get the part they need when they need it.

Junk Your Car To Help us Sell Valuable and Dependable Parts
Whether or not your car has much-needed parts, we will pay you to take the clunker off your hands. Learn when the right time to junk your car is and remember we need your recycled vehicle to keep our inventory of OEM parts full. Come check out our salvage yard today to learn more about junking your car or truck. If your vehicle doesn't currently run, contact us today to schedule a towing service. Your junk keeps our salvage yard stocked and our customers happy.
The B&M Warranty
As a Gold Seal Certified member of the Automotive Recycler's Association, B&M Auto Sales & Parts maintains the highest ethical standards for grading the OEM parts we sell. All used parts from B&M are backed with a 90-day warranty, a 15-day return policy, and a 30-day exchange policy.