Used Auto Parts for Toyota
Get Quality Used Toyota Parts From Milwaukee's Trusted Auto Shop
As the fourth largest car manufacturer in the world, Toyota has earned its reputation by its dedication to quality, dependable and powerful vehicles. Today, Toyota has manufactured thousands of models ranging from small hybrids to heavy-duty pickup trucks. Toyota vehicles are designed with the most advanced and innovative parts unique from other car manufacturers which complement the true value of Toyota. As your trusted parts supplier, B&M Auto Sales & Parts is proud to carry used Toyota parts.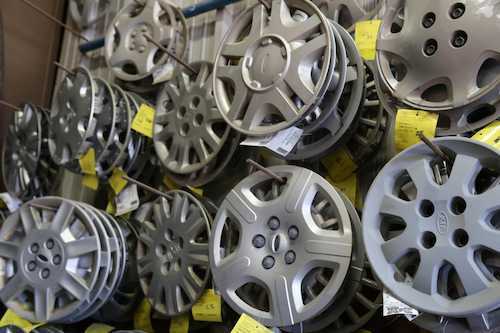 From Toyota transmissions and brakes to doors, windows and windshield wipers we carry a huge variety of used parts for the most common Toyota car and truck. We even carry used Toyota parts for your most cherished classic automobile. Our used Toyota parts are included in the specifications of many Toyota vehicles in the market including:
Toyota Prius
Toyota Tacoma
Toyota Camry
Toyota Corolla
Toyota 4Runner
Toyota Highlander
Toyota Avalon
Toyota Sienna
Toyota Sequoia
History of Toyota
Toyota Motor Corporation began in 1933 as a division of Toyoda Automatic Loom Works. The first car produced by Toyota was the Model AA Sedan in 1936. The company's advanced innovations included launching its luxury brand, Lexus in 1989 and being the first to mass-produced a hybrid-powered vehicle in the world, the Prius in 1997. Toyota became the largest car manufacturer in the world in 2008. Known throughout the world as a pioneer in Japanese automobile production and development, the Toyota Motor Corporation reached the milestone of production with its 200-millionth vehicle in 2012, Toyota continues to produce more than 10 million vehicles annually.
Toyota Motor Company is also a leader in hybrid and electric automobiles. Sales of Toyota and its subsidy Lexus' hybrid passenger cars have surpassed 10 million units in sales as of 2017 with the Prius being the top-selling hybrid vehicle sold around the world.
Search for Auto Parts Online
B&M Auto Sales & Parts is dedicated to supplying the auto parts car owners need and when they need them. In addition to our large inventory we also have access to a convenient online parts computer system which allows you to search for your Toyota parts right on our website. If you can't find the part you need online contact us today and we'll help you locate it.