Used Truck Caps and Cap Parts
Truck caps are what make a truck and should be bought from a reputable dealer. While truck caps can get very expensive they are very affordable when bought at B&M Auto Sales & Parts. We sell used truck caps which have the same quality as a new ruck cap and most of the time, look brand new too!
Is A Truck Cap Right For You?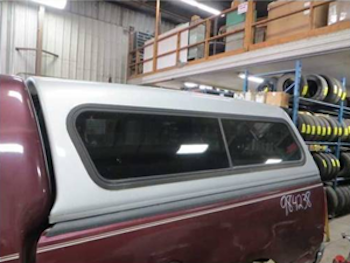 The first decision (and one of the most important) is to decide if a truck cap is right for you. Many choose to accessorize a new truck with the purpose to make it their own so it can do more. A truck cap is typically one of the first added parts truck owners purchase and by far, one of the most useful parts of a truck. Truck caps are very useful and can help keep your cargo protected from weather and theft. Below you will learn some pros and cons of using a truck cap for your truck and what to expect.
A truck cap/shell is a hard-bodied and windowed cargo covering usually the same height as the truck's cab. Many truck owners choose a truck cap for a number of reasons. Below are the most common reasons truck cabs are purchased:
Increased security – A truck cap keeps your cargo safe from theft and the elements of damaging weather.
Improved space – A truck cap gives you the option to expand your space along with choosing storage options ensuring your tools and equipment will be safe.
Greater fuel efficiency - Trucks are known to have higher gas mileage. A truck cap helps reduce wind drag which happens when the bed is open and eliminating this drag will increase fuel efficiency.
Increase in aesthetics - You can customize a truck cap to have windows, racks, dividers and even choose from different materials and paints which will all play a part in making your truck look more appealing. Additionally, you'll experience less wear and tear on your truck when you have a protective shell to keep the bed free of dust and debris which in the long run will increase the value of your pickup truck.
While our inventory is always changing, you can be certain to find truck caps for any late model truck brand including:
Toyota
Ram
GMC
Ford
Nissan
Chevrolet
Honda
If you are in need of a truck cap consider purchasing a used one from B&M Auto Sales & Parts. As a Gold Seal Certified member of the Automotive Recyclers Association, we adhere to the highest standards for selling recycled auto parts. All of our inventory is inspected, graded and backed by a 90-day warranty, a 15-day return policy, and a 30-day exchange policy to ensure only the greatest customer satisfaction.
Contact B&M Auto Sales & Parts for assistance in finding the pickup truck part you need or stop by today and check out our huge salvage yard!