Recycled Auto Parts Wisconsin Shop ARA Gold Seal Program Member for 20+ Years
Auto Salvage Waukesha Area Business Maintains Prestigious Automotive Recyclers Association's Gold Seal for 20+ Years
B and M Auto Sales and Parts, an auto salvage Waukesha area business, has been a prestigious member of the international Automotive Recyclers Association (ARA) Gold Seal Program for over 20 years. These esteemed accolades are reserved for auto recycling companies with reputable, quality business practices and exceptional customer service. Our auto recycling Waukesha salvage yard is recognized for consistently adhering to or exceeding the strict Gold Seal rules, regulations and professional standards.
The ARA Gold Seal Certification is awarded to those who provide the highest level of customer service, while providing quality recycled OEM parts. This auto recycling gold seal certification also includes conducting business in an environmentally-responsible manner. An ARA auto recycling certification recognizes select businesses as industry-preferred automotive recyclers.
ARA Gold Seal members are required to provide accurate written product and auto part descriptions, ensuring customers receive exactly what they expect. Gold Seal automotive recyclers also promise reliable, on-time deliveries and supply customers with written guarantees. The mechanical parts warranty must adhere to the strict ARA auto parts grading system.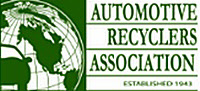 ARA Gold Seal members must pass and maintain CAR (Certified Automotive Recycler) certification. ARA Gold Seal Certified businesses are continually monitored for customer satisfaction and adherence to the strict code of ethics required to maintain certification.
Working with our ARA Gold Seal recycled auto parts Wisconsin shop means you're dealing with a company recognized for being reputable, professional and providing high quality recycled auto parts. When you need the used auto parts Wisconsin trusts, turn to the auto salvage Waukesha area experts at B and M Auto Sales and Parts.
Our recycled auto parts Wisconsin shop is proud to be an ARA Gold Seal member!
Contact our auto salvage Wisconsin business today for the affordable used auto parts Waukesha and surrounding areas rely on.