Checklist for Buying a New or Used Truck
Defining Your Truck Requirements and Important Factors to Consider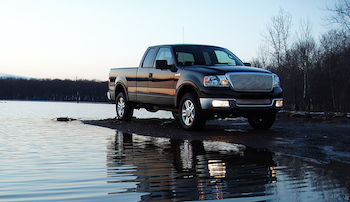 When buying a new or used truck the first step is to understand and define exactly what you will use your pickup truck for. The challenge you may face is sorting through all the options available on the market and selecting a truck which will provide the right balance. From overall performance and cost to hauling and towing capacity, buying a truck which is suitable to your needs will make your purchase more valued.
The key to selecting the right pickup is to know exactly what you need the truck to do - from payload and towing capabilities to mileage and crew capacity. When the time is invested upfront to define your truck's performance requirements you'll gain confidence knowing the truck purchased will perform the jobs needed.
Features to Consider
Payload: It's important to know what you intend to haul with your new truck. This will determine whether or not you need a light or heavy duty pickup truck. Light-duty pickup trucks can be used for a wide range of jobs, from hauling plywood, sheet rock, stone pavers, heavy tools, or ladders whereas heavy-duty trucks can be used for pulling trailers or transporting over off-road terrain. Ensuring you select the right pickup truck is key to a successful purchase. Below you will find a variety of key factors to consider when buying your truck.
Trailering: If you tend to haul items in your new truck you'll need to know how much total weight will be towed, including the weight of the trailer and its contents.
Bed Size: Knowing how much cargo room will be needed to carry future loads is another feature to consider.
Crew Capacity: Determining how many people, including yourself will the truck need to hold at any given time is important to know before purchasing your truck.
Annual Miles: How many miles you anticipate putting on your truck may be a factor in what type of truck to buy.
Driving Conditions: Consider how the truck will be used and if it will be driven primarily on highways or more city stop-and-go usage. Will the truck be driven primarily in hilly conditions or flat terrain or driven mostly through dirt roads and loose gravel?
Your Checklist to Buying the Right Truck
Once the requirements have been defined, you should specify the right truck to do the job. Below is a helpful checklist to help further guide your purchasing process.
Engine Type - While a diesel engine offers 30% better fuel economy and greater pulling power, the premium for a diesel option can be as much as $7,000-$8,000 higher than a gasoline engine-equipped truck. In order to generate a reasonable payback on a diesel truck roughly 25,000-30,000 annual miles will need to be accumulated. Depending on the manufacturer and class, there may be only one engine option though. You will also need to refer to your trailering requirements and consider if the truck needs to tow more than 15,000 pounds. If this is the case, a diesel engine may be the only option for the job.
Rear/Drive Wheel-Axle Ratio - The higher the numerical ratio, the slower the gear will be. While higher ratios give trucks greater pulling power, the engine must work harder to spin the driveshaft more times thus sacrificing the fuel economy. When the numerical ratio is lower, the available top-end speed increases causing the engine to work less and overall improving the fuel economy.
Pickup Box Size - Depending on cab configuration, mid-size pickup beds can range from 5.1 feet to 6.4-feet in length. And, depending on cab configuration and truck manufacturer full-size pickups typically offer three bed sizes up to 8.1-feet long:

Standard bed: 6.3-6.6 feet
Long bed: 8.0-8.1 feet
Short bed: 5.5-5.7 feet (only available on ½-ton class, Crew Cab models)
Two- or Four-Wheel Drive - When determining whether or not you will need a two- or four-wheel drive you will need to consider whether the truck will operate in off-road conditions and will need a four-wheel drive for the added traction. The incremental cost for four-wheel drive can be more therefore it's an important factor to consider.
Rear-Drive Axle Differential - The drive axle differential transmits power to the drive wheels while allowing them to rotate at different speeds. The need for the wheels to turn at different speeds is required when turning corners. The differential is especially important when it comes to safety and having to manage slick situations. There are three types of differentials to consider:

Open differential: The drive wheels both move at equal force - as long as both wheels remain in contact with the road and have traction. This is typically the lowest cost option.
Limited-slip differential: Under normal operating conditions, this differential will send power to both wheels equally when traveling forward.
Locking differential: While this offers best traction in slick or off-road conditions, even in two-wheel drive mode, the cost for a locking differential is slightly higher.
Cab Configuration - This determines the number of people able to safely be carried in the vehicle. Below are the standard configuration available in most late model trucks:

Regular/Standard Cab: One bench or two bucket seats. There's no second-row seating and (usually) no substantial storage behind the seat.
Extended Cab: Truck has either jump seat or full bench seat in the rear. There's limited legroom compared to the larger crew cabs. The rear doors often open toward the rear.
Crew Cab: Full-size, second-row seating with full four doors which swing open toward the front. For mid-size and full-size ½-ton pickups, bed length is sacrificed for the crew cab.
Choosing the Truck Interior Options and Accessories
From vinyl to leather seats and extended mirrors for maximum visibility, ensuring you have all the right features inside and out is crucial for comfort, enjoyment and safety.
Knowing where to buy parts for your vehicle is also important to guarantee your truck is running at peak performance at all times. When you are in need of truck parts, B&M Auto Sales & Parts is your trusted used auto parts supplier. We take pride being an Automotive Recyclers Association Gold Seal member for more than 20 years and are committed to following stringent business practices in the Wisconsin used car parts and auto recycling industry.
All of our used truck parts are fully inspected and include a 90-day warranty, 15-day return policy and 30-day exchange policy.
If you are in need of a used truck part, contact B&M today. If we don't have your part in stock we'll locate it for you using our efficient online parts locater system.