What to Know Before Buying A Used Car
Used Car Buying Tips and Tricks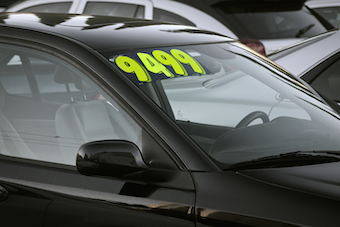 Whether it's your first car or your tenth, buying a car can be a larger hassle than anticipated if you're not properly prepared. From knowing what kind of vehicle to buy to making certain you don't get ripped off or worse, sold a junk car buying used can be risky if you don't do your homework. B&M Auto Sales & Parts has compiled some important tips and tricks for buying a used car to help you become more confident in your buying decisions.
Do Your Research
First and foremost, take some time to write down exactly what you want from a car. Some important questions to ask yourself are:
Will you be putting a lot of miles on your new car and need a fuel-efficient vehicle?
Do you need room for storage, passengers, car seats, etc.?
Are there certain features like heated seats you can't live without?
Is there a particular manufacturer you know and trust?
Once you make some decisions, then research which cars fit your description and what their prices are. There are many great resources online to help with pricing. For example, Kelley Blue Book is a popular resource for price comparisons. It's important to know this information before you set foot on a car lot so you know what expect to pay for similar vehicles in your area.
Know Your Budget
Knowing your budget before you begin your search is the best approach to take. Taking some time to figure out how much you can afford will save from stress and help streamline the purchasing process. It's also important to consider car insurance for your new vehicle and to include it in your budget.
Don't let a salesperson persuade you to spend over your budget. Setting a price range for yourself will help you narrow your search and negotiate a price you are comfortable with. When you talk with the seller, try to be firm with your budget range, without sharing your target price until the dealer or seller makes an offer.
Consider All of Your Financing Options
If you aren't planning to pay with cash, it's highly beneficial to consider all financing options outside of the dealership and to get rate quotes from more than one place. You may be able to get a better rate on an auto loan through a bank or credit union. Make sure your credit score is where it needs to be to be certain you get approved with the best rate possible.
Get a Carfax Report
Once you find the used vehicle you want to buy its important to obtain a Carfax report. A Carfax report will provide you with the history of a car, letting you know if the car has been in any major accidents. Many dealerships will run the report for you, but in the event they don't you can run a report yourself.
Test Drive Your New Ride
Test driving is one of the most important steps in buying a used car. Seeing and feeling how the car actually drives for yourself will prevent any regrets you may have down the road. Try to test it in a variety of environments, including on the highway or in snow if possible. If anything seems off to you or even if you just aren't uncomfortable with it don't be afraid to continue looking.
Get the Car Inspected
Having the vehicle inspected by a trustworthy mechanic is a must in the buying process even if the seller insists there are no mechanical defects or major issues. Be prepared to thoroughly look the car's interior and exterior condition. Check the functionality of locks, lights, blinkers and windows. When checking the exterior check body panels, windows and the roof, looking for scratches, dents and rust. The paint color and finish should be the same on every body panel. A thorough inspection will ensure nothing gets missed and you're stuck with repairing the damages yourself.
Continued Maintenance
Buying a used car can mean the car is older and may have a lot of miles on it which could require further maintenance. Keeping up with the regular maintenance schedule can help prevent costly repairs in the future. Preventive car care also reduces wear and tear of the engine and other components which will ultimately extend the life of your new, used vehicle.
Check Out B&M Auto Sales & Parts Cars for Sale
B&M Auto Sales & Parts offers pre-owned cars for sale. We never know what's going to show up at our salvage yard so our assortment of used vehicles is always changing. All of our vehicles are thoroughly inspected and are priced to sell so you can always count on a great deal. We'll take care of the tax, title and license for you so there's no need for a dreaded DMV visit. Contact B&M Auto Sales & Parts today for more information on our current selection of vehicles for sale.