Need Cheap Car Batteries, Milwaukee? B&M Auto Has You Covered!
The Used Car Batteries Milwaukee Area Residents Trust for Reliable Performance at the Cheapest Price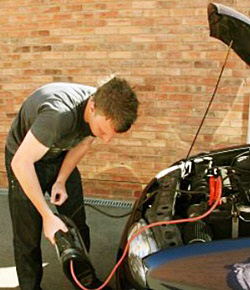 Need cheap car batteries, Milwaukee? B&M Auto has you covered! We have tons of quality, used car batteries and used truck batteries for sale. From heavy duty truck batteries and diesel truck batteries to compact car batteries and hybrid car batteries, we've got it all. We offer used automotive batteries for all the most sought after makes and models (plus, a few rarities), including Ford, Dodge, Ram, Honda, GM, Toyota, Hyundai and countless others. From vintage to modern day, we've got a cheap used car battery for nearly any make and model.
Below, our Milwaukee used auto parts shop explains the most common reasons for car battery failure:
Electric: The most common cause for car battery failure is when lights are left on overnight. This can occur with hazard lights, headlights, door ajar indicator lights or simply forgetting to turn off your dome lights when you exit the vehicle.
Weather: Weather can play a significant role in the longevity of your battery. Both heat and cold can decrease the lifespan of your battery. Vehicles which are stored outside during winter and summer months are especially susceptible to reduced battery life.
Age: The lifespan of your automotive battery is dependent on its age. Certain batteries are made to last longer than others. Be sure you're buying the best battery for your vehicle and the conditions it endures. Our Milwaukee used auto parts shop can help you determine which battery will best suit your vehicle and its unique needs.
Milwaukee Used Auto Parts Shop with a Longstanding Reputation for Quality and Value
Get into B&M Auto today and pick up a quality used car battery or truck battery for only $45 plus the core exchange—a fraction of the cost for what you'll find anywhere else, including online! All of our used car batteries and truck batteries include a 90 day warranty, so you're guaranteed to get through the toughest upcoming months.

As an ARA Gold Seal member for 20+ years, B&M Auto employs stringent safety and performance tests on all used auto parts we sell. As a local business serving all of Southeast Wisconsin, we're proud to continuously offer the cheapest prices on quality used auto parts.
Ladies and gentlemen, you may now start your engines!
Contact our Milwaukee area auto salvage yard today and tell us about the used car parts or truck parts you need; we'll respond shortly!