Used, OEM Headlights and Taillights
Waukesha Salvage Yard Sheds Some Light on Replacement Headlights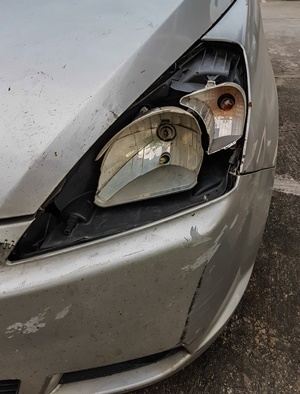 Cellophane and Scotch tape is NOT going to fix this. Check with B&M Auto for an affordably priced, used OEM headlight assembly.
We get a lot of calls asking about replacement headlights, taillight lenses and fog lamps. Most of these calls come shortly after the caller finds out what the dealership wants to charge for a replacement headlight.
Like many auto parts, headlights follow the Law of Escalating Costs: the newer and the more expensive the vehicle, the more you will be gouged for a replacement part at the dealership. If you drive a late model German import with a four-letter name, for instance, the cost can be well over $1,000 to replace a headlight assembly.
Unless you're planning to only drive during daylight hours, a broken headlight is one thing you just can't ignore. Police officers certainly won't ignore it. Get caught driving with a broken headlight and you'll likely have the cost of a traffic citation to deal with, too. Better to get it fixed as soon as possible.
And by "fixed," we really mean "replaced." There's just no good way to fix a broken headlamp.
How to Find a Used Headlight For Your Car in Milwaukee
While you could go to a Milwaukee area junkyard to scavenge a headlamp assembly from a wrecked car of the same make and year as yours, there's a much easier way: Just call B&M Auto in Waukesha and let us know what you need. We'll check our inventory while you're on the phone with us. If we don't have what you need, we'll do a nationwide search for it on a computerized network that connects over 2,300 salvage yards all across the country. Not only will we track down what you need, but we'll get it for you at a price far less than what a dealership will charge.
Broken or Cracked Taillight Lens or Fog Lamp? Give B&M a Call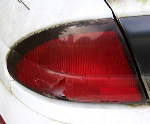 Maybe someone bumped into your car at the Pick 'n Save and broke one of your taillights, then left without leaving a note on your windshield. Or maybe you backed up a little too far and broke your tail light on the guard rail of the shopping cart corral. Whatever happened, you now have a broken tail light.
Assuming your tail light isn't completely demolished, you could get some red tape and cover the area where the red plastic broke off. Duck brand tape actually makes a translucent red tape just for this purpose. It'll keep you from getting pulled over by the police and keep water from getting to the bulb and causing it to blow, but it's not exactly a permanent fix. For that, and definitely for cases where the tail light is completely smashed to pieces, you're going to need a new tail light lens.
After checking with your friendly local auto dealership, you will inevitably wonder how a little piece of plastic can cost $300. May we suggest giving B&M Auto a call? We have a 6-acre lot full of cars and thousands of parts in our warehouse, but if we don't have the tail lens cover you need we'll find it for you. And it won't cost anywhere near what a dealership charges.
Headlights and Tail Lights for Vintage Cars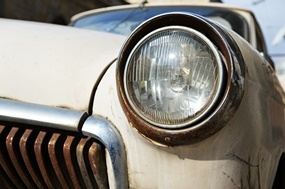 Do you have a 1950's classic or a '60s muscle car project in need of a replacement headlight or tail light? You could look on ebay, but why not check with B&M Auto first? Just let us know what you need. We'll search the database of other auto parts recyclers across the country. If the part you need is out there, we'll find it.
Can You Trust A Used Headlight or Taillight From A Salvage Yard?
A used headlight or tail light lens is a pretty low risk purchase. It's not like there are any moving parts that wear down. Plus, all the parts we sell are quality, used OEM parts. They're all graded by their condition, so you have a pretty good idea of what you'll be getting.
Since most of the cars on our lot are late model vehicles, we have many headlights and taillights in excellent condition. The only thing that may need replacing is the bulb. If it's a standard bulb, you're looking at an additional outlay of about $15 for a halogen bulb at your local auto parts store.
As a Gold Seal certified member of the Automotive Recyclers Association (ARA) for over 20 years, B&M Auto adheres to strict quality control standards. We are required to provide accurate descriptions of the parts we sell, as well as written guarantees. Every part is backed by a 90-day warranty, a 15-day return policy and a 30-day exchange policy.
So, yes, you can trust a used headlight or taillight. Especially one you buy from us.
Did You Know You Can Get Your Headlights Polished at B&M Auto?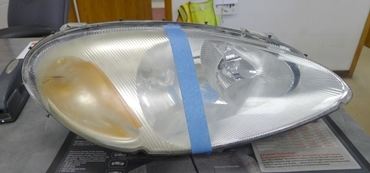 If your headlights are still intact, but the glass is looking hazy, yellowed or scratched from exposure to the elements, B&M Auto can restore them to virtually new condition with the 3M headlight lens restoration system.
In the photo to the right, the left side of the headlight has not been restored, while the right side shows the results of polishing with the 3M headlight restoration system. Not only does the headlight look better, but nighttime visibility is noticeably improved after restoration.
The cost for restoring two headlights is $50, and for just one headlight it's $35. You can bring your car in or remove the headlights and bring them to us.