Wisconsin Auto Recycling for the Dead or Dying Vehicle
Milwaukee Auto Sales and Salvage Yard Thinks You "Auto" Know the Benefits of Recycling a Dead Vehicle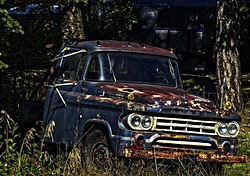 Even when our vehicle continues to fail us, we still hold tight, whether due to finances or personal attachment. Our Milwaukee auto sales and salvage yard experts explain why auto recycling is so important for these lifeless vehicles.
Dead vehicles are not only a space waster and an eye sore they can also leak hazardous chemicals. If you have a lifeless vehicle, consider bringing it to our Waukesha auto recycling facilities. Our Wisconsin auto recycling specialists will ensure your vehicle does not go to waste. In fact, we'll rescue all the working parts so other cars can benefit from them. With B&M Auto, you're not handing your vehicle over to an auto graveyard; you're reincarnating it by providing the working parts to vehicles in need.
Auto recycling not only helps other vehicles in need, it also helps the environment. Our Wisconsin auto recycling specialists are specially trained on how to completely drain and properly dispose of hazardous vehicle fluids, so they don't contaminate our ground water. We'll also send any unusable materials and auto parts to scrap metal facilities so they can be reused in other products.
There's a high demand for used auto parts in Milwaukee and throughout Wisconsin, so don't send your vehicle to a landfill junkyard; give it new purpose by allowing its materials to be reused or recycled. Help others needing affordable used auto parts in Wisconsin while also protecting the environment.
Contact our Milwaukee auto sales and salvage yard today to learn more about how we can help you recycle a dead or dying vehicle.