Milwaukee Area Source for Rear View and Side View Mirrors
Replacement Rear View Mirrors For Sale On the Cheap at B&M Auto in Waukesha
Known fact: Humans have not yet evolved to the point where we have eyes in the back of our heads, which is why we're still driving around with rear view mirrors mounted on our windshields (and doors).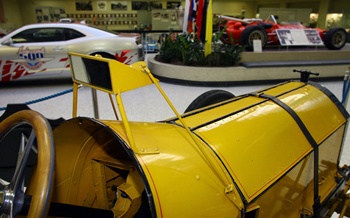 The rear view mirror on the 1911 Marmon Wasp was a bit ungainly, but it helped win the first Indianapolis 500. Your results may vary.
Did you know the first rear view mirror ever installed on an automobile was mounted on "The Marmon Wasp," a wasp-shaped race car driven to victory in the first Indianapolis 500? True story.
While other cars in the inaugural 1911 race continued a standing tradition of having a second man in the car to check what was going on behind them, driver Ray Harroun mounted a 3" by 8" mirror on his dash to monitor goings on behind his car.
Having a rear view mirror made it possible to have a lighter, narrower, more aerodynamically shaped one-passenger race car...and get the checkered flag.
Yes, you really do need a rear view mirror
Although some drivers might beg to differ, rear view mirrors aren't just for adjusting your hair or checking to see if there's powdered sugar on your moustache. They're for checking what's going on behind you.
Being able to see if there's a semi-truck screaming up behind you or the flashing lights of an emergency vehicle is essential. And unless you're married to a chiropractor, you just can't be constantly twisting your head around to look behind you. Rear view mirrors are also useful when you're backing up or attempting to parallel park.
Oh, Wisconsin law requires you to have a rear view mirror that provides rearward vision of at least 250 feet. So there's that, too.
Are you missing a rear view mirror in your car?
By all means, get it replaced ASAP. You could order one from your local car dealer, but you'll soon discover why these establishments are commonly referred to as "stealerships." Especially if you need to replace an auto-dimming/navigation enhanced/hazard warning type rear view mirror.
The cheapest way to become street legal again is to get a replacement mirror from a local salvage yard. Shop B&M Auto Sales and Parts, conveniently located in Waukesha!
B&M Auto is where Milwaukee Area Drivers Get Replacement Rear View Mirrors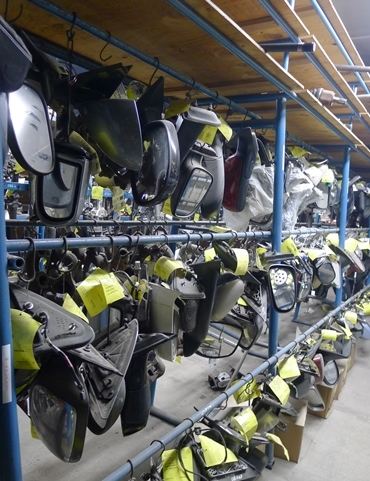 B&M Auto harvests rear view mirrors from all the cars that arrive on our lot—as long as they're intact and serviceable. Unlike "pick 'n pull" junkyards, you don't have to go scavenging through a lot full of wrecked cars.
We store the rear view mirrors in our warehouse, each one identified by the make, model and year of vehicle it was pulled from. All you have to do is call or email us and let us know what you need. We'll check our inventory and let you know if we have it in stock.
If we don't have the rear view mirror you need, we'll find it for you. By tapping into the ADP Hollander Interchange network on our computers, we can access the inventories of thousands of other salvage yards across the country. If the part you need is out there, we'll find it for you and get you a price—which will be much lower than the cost of a new one.
Yes, our used rear view mirrors come with a warranty!
As a Gold Seal Certified member of the American Automotive Recyclers Association (ARA), B&M Auto conforms to the highest standards for quality control. We provide accurate descriptions of all parts we sell and adhere to the ARA's strict auto parts grading system. Additionally, we back all used auto parts we sell with a 90-day warranty, a 15-day return policy, and a 30-day exchange policy.
What if some jerk sideswiped you and broke off your side view mirror while your car was parked?
Wow, we hate when that happens. And it seems to happen a lot around Milwaukee.
Don't fret. Get in touch with us and let us know the make, model and year of your car. We'll see if we've got what you need in stock. If we don't, we'll find it for you.
If you're driving an older car without any newfangled technology on your side view mirrors, mounting a replacement is usually pretty straightforward. As you might suspect, though, mirrors that incorporate remote control, defrost, hazard warning indicators and pizza delivery options* will likely require an automotive repair shop to get it installed properly.
Still, your cost will be far less than if you took your car to a dealership for a new rear view mirror. If paint color is a consideration, you can get your replacement side view mirror painted to match your car, or if the one on the other side of your car is black you can easily do a rattle can paint job to match it.
Contact B&M Auto online now to inquire about replacement mirrors for your car, or call us at (262) 542-2255.