B&M Auto Sales and Parts on Safety of Recycled Auto Parts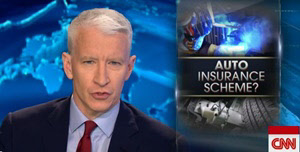 If you happened to be watching CNN's Anderson Cooper 360 on February 11 (2015), you might have caught a segment about recycled auto parts. The news story covered allegations by auto body repair shops that insurance companies push their "Select Service" providers into using recycled auto parts in order to keep costs down and this is resulting in unsafe vehicles on the road.
New Lawsuits Allege Insurance Companies Forcing Auto Shops To Use Unsafe Used Parts
Initially, the Louisiana Attorney General's office filed suit against State Farm Insurance over the matter, alleging they put consumers at risk and blackball auto shops that refuse to use recycled auto parts. Over 500 shops from 36 states have joined in lawsuits against the biggest insurance companies in the country and the Department of Justice is being asked to investigate how insurance companies all across America handle auto repairs.
While business at our Waukesha auto parts recycling center hasn't slowed up since the report aired, we're obviously concerned about CNN's very one-sided and negative portrayal of recycled auto parts. More importantly, we want to assure both our current customers and prospective customers that anything they buy from us is, indeed, safe for use in their vehicles.
The president of the Automotive Recycling Association (ARA) has demanded in writing that CNN retract the story they aired and a representative for State Farm denies the allegation, stating "Any sort of aftermarket part that you might hear about are usually cosmetic parts, so they're nothing related to the safety, the mechanical parts of the operation of the vehicle."
Still, the old adage about a lie being able to make it halfway around the world before the truth can get its pants on is true more often than not. So, to help set the record straight, here are a few facts:
Recycled parts play an important role in the marketplace. Without them, many hard working Americans would have no option but to shell out hard-earned money for an expensive new part. This would leave them at the mercy of automakers, who would enjoy a complete monopoly on replacement parts. With more Americans keeping their cars longer and the average age of a car hitting a record 11.6 years, recycled OEM parts are likely to play an even bigger role in the future of American drivers.

Contrary to what CNN would have you believe, professional recycling operations are not "junkyards." As members of the Automotive Recyclers Association (ARA), B&M Auto Sales and Parts is required to meet stringent quality control standards to ensure the parts we sell meet industry standards. We have been a member of the ARA's prestigious Gold Seal Program for over 20 years. Gold Seal Certification is only awarded to those who provide the highest level of customer service and quality recycled OEM auto parts. As Gold Seal Certified members, we are required to provide accurate auto part descriptions, on-time deliveries and written guarantees to our customers. Additionally, all mechanical parts warranties have to adhere to ARA's strict auto parts grading system.
Bottom line: B&M Auto Sales and Parts is your best choice for cost-effective, recycled OEM parts. You can count on us for quality OEM automotive parts. Unlike aftermarket parts, they meet all OEM requirements for fit, finish, durability, reliability and safety and work just as well as new replacement parts from the manufacturer.
As part of our commitment to our customers, B&M provides a 90-day warranty on all used auto parts, a 15-day return policy, and a 30-day exchange policy. Additionally, we are able to locate virtually any auto part you may need. By tapping into the ADP Hollander Interchange computer system, we can search inventory from over 2,300 other auto recyclers across the country. Using this system, we can track down even hard-to-find parts for vintage cars.