DIY Repair with the Replacement Auto Parts Milwaukee Trusts
Milwaukee Auto Recycling Specialists Offer DIY Repair Tips and Tricks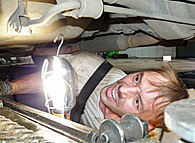 Whether it's rattling, clunking, knocking, spraying, leaking, screeching, squealing or just not quite running right, our Milwaukee auto recycling center can help. With a huge inventory of Wisconsin used auto parts you can find virtually anything you're looking for. From used rims, wheel covers and tires to used engines, batteries and drive trains, we are the replacement auto parts company Milwaukee turns to first for all their automotive repair needs.
When it comes to repairs nobody wants to pay out the nose for a good mechanic. In an effort to avoid expensive new parts and overpriced labor, many people try the DIY method first. If you're fairly new to the gearhead grounds the tips below provide a good starting place.
Keep it Simple:
As a beginner DIY auto mechanic start with the basics. Before trying your hand at something complex and dangerous, start by figuring out the simple fixes first. Practice changing your oil, an air filter or the battery. Building your auto repair knowledge and confidence goes a long way down the road.

Do Your Research:
When advancing beyond the basics, do your research. Read up on the manufacturer's manual, study diagrams and gather need-to-know information from reputable websites, forums and blogs. When researching online our Milwaukee used auto parts company advises you to read information from multiple sites to ensure the advice you're getting is consistent and correct.
Get to Your Local Used Auto Parts Store in Milwaukee:
When you feel prepared to begin your DIY car or truck repairs, contact B&M Auto Parts and Sales or stop by our local used auto parts store in Milwaukee area. We'll find the part you need and we'll sell it to you at the best price! All our Wisconsin used auto parts have been tested for safety and performance. With B&M Auto you can feel confident knowing you're always getting the best deals on the best local used auto parts.
Grab Your Tools:

The average repair requires basic tools like screwdrivers, socket wrenches, adjustable pliers, hex keys and breaker bars. It's also very important to have the proper safety gear including eye protection, a fire extinguisher, headlamp and gloves. Aside from the basics, there are some other pretty handy diagnostic devices to help you when advancing from basic repairs to more advanced repairs. Our Milwaukee used auto parts store recommends the following aids:
Digital Multimeter: For use with electrical repairs. Converts voltage, currents and resistance.
Fuel Pressure Gauge: Tests pressure on modern fuel injection systems. Helps identify if the vehicle is getting too much or not enough fuel.
Vacuum Pressure Gauge: Provides air pressure readings for vacuum lines and other areas of air flow.
When in Doubt, Suck it up:
If you're unsure or uncomfortable at any point in the DIY repair process, STOP! Intuition (or other things going haywire) usually let you know when it's time to leave it to the professionals. After all, it's better to suck it up and pay the mechanic now then to accidentally break or damage the vehicle further. It's also better to leave it to the professionals when dealing with certain electrical and fuel related repairs to avoid a possible fire or deadly explosion.
The Used Auto Parts Company Milwaukee Relies on for Great Parts, Great Deals and Great Service!

Being in the automotive industry for over 65 years, we've learned a thing or two about cars, trucks and other automobiles. Understanding a vehicle from the outside and the inside translates to a greater understanding of auto mechanics. At B&M Auto Parts and Sales we get the right parts matched up with the right vehicles, faster! You'll always feel great about getting safe, quality Wisconsin used auto parts at the best price! So contact us online or stop in and experience the B&M Auto difference today.
Our local used auto recycling center serves all of Southeast Wisconsin, including, but not limited to: Milwaukee, Waukesha, Hales Corners, Brookfield, New Berlin, Delafield, East Troy, Oconomowoc, Butler, Elm Grove, West Allis, Wauwatosa, Pewaukee, Hartland, Muskego, Greenfield, Sussex, Franklin and Menomonee Falls.
Contact our Milwaukee used auto parts store now for inventory information on the parts you need.