Milwaukee Car Repair On The Cheap - How To Save Money With Our Used Auto Parts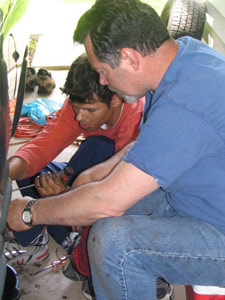 Do-it-yourselfers and car enthusiasts have long known the allure of auto salvage yards. But lately, a lot more people with limited mechanical aptitude have been discovering them—including our Waukesha used auto parts salvage yard.
Take Jenny, for instance. Jenny was visiting her sister in downtown Milwaukee and left her car parked on the street overnight. When they went to get in her car the next morning to go run errands, the driver's side rear view mirror was lying in the street about 20 feet in front of her car—completely smashed up. Jenny figured a bus or a truck must have come too close to her car and sheared it off.
The next day, Jenny took her car to the dealership where she bought it. When they quoted her $450 to replace the mirror, she was in disbelief. Her car was 10 years old and she couldn't see putting that kind of money into it. So she started looking around for alternatives. A co-worker told her it might be worth checking with a local auto salvage yard. That's how she found out about our Waukesha used auto parts shop.
We were able to find Jenny an inexpensive replacement mirror which was still in great shape. The car it was on had been totaled in a front end collision, but the mirror was in perfect condition and only cost $100. Jenny had a body shop paint it to match her car and install it for another $100. The whole repair cost less than half of what it would have cost at the dealership. Way to save money, Jenny!
This story is typical of many customers we see at B&M Auto Sales and Parts. Whether it's a front grill, a rear bumper, used rims for snow tires, or even used stereos and stereo speakers, getting it from our Waukesha auto salvage yard is always a screaming good deal compared to what it would cost at a dealership or body repair shop. Sure, there's a little legwork involved, but the savings are well worth it.
We're a little different from the old "pick and pull" auto junkyard. You don't have to go out on the lot and dismantle old vehicles. Instead, just let us know what you need. We'll search our extensive inventory of cars and parts and let you know if we have the part(s). Our warehouse is full of high-demand parts we "harvest" from all makes and models of cars and trucks. Plus, through our nationwide network of auto parts recyclers we can track down just about any part you may need. The parts are all cleaned and tested to make sure they are in good usable condition, and we back every used part we sell with a 90-day warranty, a 15-day return policy, and a 30-day exchange policy.
Contact our Waukesha auto parts recyclers to check on the availability of used car or truck parts you need. Call us at 800-236-2301, or locally at 262-542-2255.