Buying Used Alternators and Starters: Is It Worth It?
Buying any used auto parts is a calculated risk. For the right person, though—i.e. the mechanically inclined individual who will do the installation work himself (or herself)—a good quality, used OEM alternator or starter is a risk well worth taking.
Used OEM Alternators Available in Waukesha at B&M Auto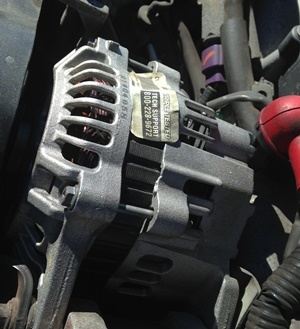 Remanufactured alternator from a Subaru Outback. This one had just 3k miles on it.
As you likely already know, the alternator keeps your car's electrical system running after the battery gets it started. It also keeps the battery charged and all the electrical systems in your car running. So, you can't exactly make do without one.
Alternators usually last about 100,000 to 150,000 miles, though some fail sooner and some last longer. Although wear and tear accounts for most failures, improper jump-starting, a too-tight alternator belt and accessories that put added strain on the electrical system can all contribute to premature failure of an alternator.
Can you tell if your alternator is about to fail?
There are some telltale signs an alternator is likely to fail. These include:
The alternator warning light on your dashboard comes on
Headlights pulse from bright to dim while driving at night
The radio or other electrically powered systems start working intermittently
An electrical burning smell from the alternator or the battery
If you notice any of these symptoms, it's a good idea to have a mechanic do a charging system test to determine if your alternator is about to croak or if you need a new battery.
Cost of Having an Alternator Replaced
A new alternator from dealership can easily run upwards of $450 (with installation). Remanufactured alternators from auto shops can be found for $200 and up, but for the best deal on an alternator check with B&M Auto Sales and Parts in Waukesha.
Many of the alternators we carry were harvested from late model cars with low mileage. About 98.7%, a totaled car has a perfectly fine alternator and starter. If there's anything wrong with it, we send it straight to the recycling pile. Plus, B&M Auto backs all used parts with a 90-day warranty, a 15-day return policy and a 30-day exchange policy.
Used OEM Starters at B&M Auto in Waukesha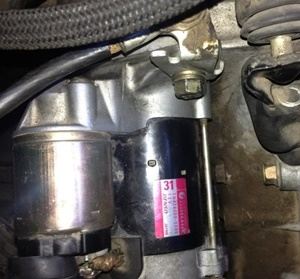 Here's a great find: An OEM Denso alternator from Subaru with just 47k miles on the odometer.
The starter is a small electric motor that turns the engine enough that fuel and air can enter the cylinders and begin the combustion process that keeps the pistons moving. It's a small component, usually tucked away in the back underside of the engine compartment. Replacing one yourself isn't difficult, but you'll need car jacks and wheel blocks to access the starter.
For the most part, starter failures are rare during the first 75k to 100k miles, but after 125k miles your starter is living on borrowed time. The most common cause of a starter failing is the solenoid or motor burning out, but starters also fail from fluids leaking into them (coolant from the water pump or a bad hose, motor oil from a leaking gasket, or power steering fluid from a leaking pump). If you see signs that fluids have been leaking onto your starter, you'll need to get that sorted out before installing a replacement starter.
Cost of Having a Starter Replaced
The cost to have a starter replaced (with a new one from a dealership or a garage) runs between $350 to $485. A used OEM starter from B&M can be had for as little as $30! Although some say buying a used starter is a crapshoot, when you buy from B&M Auto you'll know how many miles were on the vehicle the starter was pulled from--which will give you a good idea of how long it will last in your car. In many cases, we have starters from low mileage, late model cars. The risk of one of these starters failing is pretty low.
You can use our online search tool to check our inventory of alternators and starters, but for the most up-to-date information we recommend emailing or calling us. If we don't have what you need, we'll tap into a computerized network of over 2,300 auto parts recyclers across the country. Whether it's an alternator or starter, or anything else, we'll find it for you.
Contact B&M Auto Sales and Parts online now, or call us at (262) 542-2255.