Used Auto Parts: Wisconsin Recycles to Protect our Planet
Auto Salvage Milwaukee Area Facility Contributes to Green Automotive Recycling Movement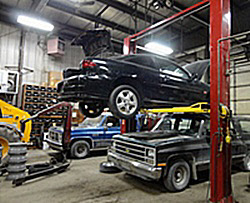 Many people are unaware of the substantial benefits involved in our Milwaukee auto salvage and recycling program. With B&M Auto, you not only receive compensation for your vehicle, you also help others afford necessary auto parts. The biggest benefit to our Milwaukee auto salvage, however, is its impact on the environment. Recycling vehicles greatly reduces landfill material, energy consumption, greenhouse gases, fossil fuels and ground water contamination.
Auto Recycling Facility in Milwaukee Area "Brakes" Down the Facts
The average vehicle has approximately 75% recyclable parts and materials, with 65% being comprised of steel. Recycling steel is far less expensive than producing new steel and significantly cuts down on oil, energy and greenhouse gasses needed to mine and manufacture the metal. The actual process of recycling steel is estimated to use nearly 75% less energy than producing it new. When broken down, this means one ton of recycled steel conserves nearly 3,000 lbs. of iron ore, 1,500 lbs. of coal and 200 lbs. of limestone! Plus, when recycled metal is used in place of its ore counterpart, air pollution is reduced by more than 85%, waste pollution is reduced by more than 75% and solid wasted is reduced by a whopping 105%. Each year, automotive recycling also helps conserve approximately 80 million barrels of oil from being used in the production of new automotive parts.
Why our Milwaukee Auto Facility Does it Better
B&M's auto salvage Milwaukee area technicians have extensive industry knowledge on proper auto dismantling. We know how to expertly harvest all reusable auto parts and components, recycling as much of the vehicle as possible. Once all usable auto parts are salvaged, we perform thorough inspection, testing and cleaning of the components to ensure parts are functional prior to being resold. We go to great lengths to help preserve the environment, lower our carbon footprint, provide affordable used auto parts and monetarily reward you for recycling your vehicle.
During our Milwaukee auto salvage process we complete the following harvesting and disposal procedures:
Harvesting, inspection and cleaning of tires, wheel covers, rims, truck beds, engines, car batteries, drive trains, radiators and other used auto parts
Proper disposal of hazardous fluids including engine oil, transmission fluid, engine coolant and gasoline to prevent ground water contamination
Wiring and electrical components removed and sent for proper recycling
Unusable metals sent to appropriate metal scrapyards
Our reputable Milwaukee auto salvage technicians are extremely knowledgeable about the Wisconsin used auto parts we sell. We know the condition and details of nearly all our used car parts for sale. Don't take a chance on other junk yards in Milwaukee; trust the peerless reputation of B&M. We help you find the affordable used auto parts you need.
Get Used Auto Parts in Milwaukee and Join the Green Automotive Movement
In the U. S. an estimated 6 million automobiles are recycled annually, making vehicles the world's most recycled consumer product. If each American recycled one vehicle in his/her lifetime, we would prevent more than a billion tons of greenhouse gasses from contaminating our atmosphere! The statistics are staggering. It's no wonder so many are jumping on the auto recycling bandwagon.
The automotive recycling industry is credited for more than 35% of all ferrous metals being reused, meaning the principle source of recyclable scrap metal is the U. S. is from our great automotive recyclers. B&M Auto is proud to support this incredible automotive green movement, and we encourage you to join us by bringing your retired car or truck to our auto salvage Milwaukee area facility.
When your vehicle is on its last leg or your insurance company has rendered your vehicle a "total loss", bring it to our auto salvage Milwaukee area experts. You'll be monetarily compensated, while helping out your community and the environment.
Contact our Milwaukee auto salvage yard now for in-stock used auto parts or to learn how you can recycle your vehicle.