Waukesha Used Auto Parts Business Revamping Website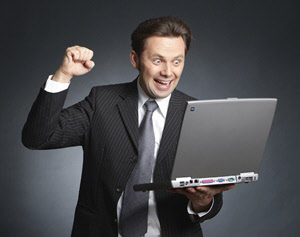 Spontaneous fist pump a common reaction of testers to revamped B&M website.
At this very moment, a talented team of web developers is hard at work on a total re-design of our website. Like a caterpillar that transforms into a beautiful Monarch butterfly, our current website will emerge with a stunning new look. Unlike the traitorous Monarch butterfly, however, the new website won't migrate to Mexico at the end of the summer.
Everything currently on our website will live on with our new site. It will just look a lot better. Initial testing of our revamped website with randomly selected consumers has resulted in a remarkable 99.875% favorability rating. Which is to say, virtually everyone preferred the new site over the old site. We think you will, too.
When Will The New And Improved Site Be Available?
This is a commonly asked question. We anticipate a launch sometime in late August or September. One thing's for certain, though: Some day in the not too distant future, you'll bring up our new site on your computer and wonder if you're in the right place.
And we mean that in a good way.
What If You Need Recycled Auto Parts For Your Car Today?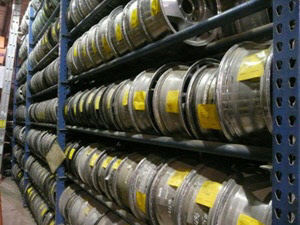 Looking for a set of rims? If we don't have what you need in stock, we'll find it for you.
No worries. The extensive renovations being done on our website do not impact our day-to-day operations in any way.
Whether you're in the market for a quality recycled automobile battery, replacement body panels, some sweet aluminum rims for your ride, bumpers, windshield glass or any of the thousands of other quality recycled auto parts we stock at our Waukesha auto recycling yard, B&M is at your service.
As a Gold Seal certified member of the Automotive Recyclers Association (ARA), we stand behind everything we sell. All our recycled auto parts have been tested to ensure they work properly, are accurately described and backed with our 90-day warranty, 15-day return policy and 30-day exchange policy.
You can search for used auto parts online through our parts search feature, but your best bet is to just tell us what you need and let us unleash the full power of a nationwide search for the part you need. We can track down virtually any auto part you may need and get you a great price on it.
As always, every phone call or email inquiry we receive and every request we get for a part is an opportunity to show you why B&M Auto Sales & Parts is the best place for used auto parts in Milwaukee.
And all of southeast Wisconsin, for that matter.
What Will Happen With The Old B&M Auto Sales and Parts Website?
Our old site will be retired when the new site goes live. It has expressed an interest in relocating to Cuba, primarily because of the warmer climate and the many 1950's era American cars there in need of quality recycled auto parts. Unfortunately, our old site never learned Spanish and we suspect it will have a difficult time adjusting to life in a communist country.
Do you need a part for your vehicle? Contact our Waukesha recycled auto parts experts via email and let us know what you need.