When To Junk Your Car
Is Your Vehicle Junk or Worth Repairing?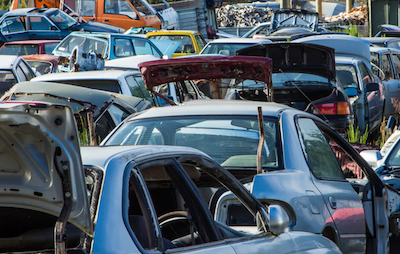 Even when properly taken care of cars get old and worn down after years of use, especially if you live in a colder climate like Wisconsin. Salt, snow and cold weather can deteriorate a cars exterior faster and put additional wear on tires, breaks and even transmissions. Cars also depreciate faster than almost any other item available on the market. The moment you drive your vehicle off the lot you bought it from, it begins depreciating.
Knowing whether to junk your car or spend the money to repair it can also be a difficult decision especially if you know little about cars. Having an older car does have its benefits like its familiarity, reliability and, older cars usually mean smaller or no payments.
On the flip side, having an older vehicle can cost you more in the long run and may even be unsafe to drive.
If you are contemplating on whether to say goodbye or repair your car, continue to reading to learn what the experts at B&M Auto Sales & Parts have to say.
Repairs and Maintenance
While you may be without a car payment, older cars do require repairs and maintenance which can become quite expensive. From replacing brake pads, tires and even transmissions, repairing a vehicle can cost hundreds of dollars. Trips to the mechanic may also become more frequent as your car gets older. If your repairs start to occur more frequently and your unable to afford them, junking your car could be the answer you need.
Repairs on even minor problems with your car can add up fast when it comes to finding the available parts, and the cost of labor. Cosmetic features are also something to consider down the road. With years of use, features like locks and windows may eventually need to be replaced.
Safety Rating
Older cars were not held to the same standards most newer vehicles are today when it comes to safety ratings and the installation of safety equipment. Some cars made even as late as the turn of the century and later were manufactured without airbags.
Advanced technology and additional airbags in vehicles which are commonly seen in later model vehicles are proving to be safer.
New cars are also manufactured with other functional safety mechanisms like Bluetooth technology which allows drivers talk on mobile devices hands-free, or through your car stereo system. GPS systems are also being built into the vehicle to help drivers find their destination safely and more efficiently.
Family Safe Vehicle
Maybe your old car isn't falling apart but you've settled down and are starting a new family and just simply need a safer, more reliable car. If you tried to sell your car or you were offered a low trade in value junking your car could be worthwhile.
Resale or Trade Value
Once your car reaches 150,000 miles it's going to be hard to sell and the trade-in value will drop significantly.
No matter how well you've taken care of your vehicle, having a car or truck with higher mileage typically means an older vehicle which translates to high costs for most people (and dealers).
If your car has a significant amount of miles it may be time to consider junking your car at last. Contact B&M Auto Sales & Parts today for a hassle-free option to get cash for your car.
Totaled in a Collision
If you were involved in a car accident and your car was totaled, junking it may be your best option. Although your car may be ruined, there are most likely several parts which could be recycled and safely used for other vehicles. It's important to work with your insurance agent prior to deciding to junk your car. Most insurance companies provide a payout when vehicles are totaled in a collision.
Rust or Damage Exceeds Value
While a little rust isn't the worst thing in the world, it's important to remember if you ignore it you may be doomed for future, larger rust spots. If you've waited too long and rust is taking over your car you could be in serious trouble. If the frame is rusting, there might be other functioning parts starting to rust or have rusted, too which could be the bearing support of your vehicle. If your vehicle is already rusted out, it may be time to junk it.
Junk Your Car at B&M Auto Sales & Parts
There may be other various reasons you're thinking about getting rid of your old car. Not all junk cars are broken and beat up and it's just a smarter move to junk it than deal with the hassle of trying to sell it. Whatever the reason may be, you want to be confident you're disposing of it within the guidelines of the law while making some money along the way too!
A good rule of thumb to remember is, if you can't find someone to buy your old car, it's probably time to junk your car. If there are one or more parts unconventionally held together …it's most definitely time.
When you're ready to junk your car, contact B&M Auto Sales & Parts. We'll take your car off your hands for a fair and honest price so you can start driving a newer, safer vehicle. If your vehicle doesn't run, we will tow your car or truck for you.