Recycled Auto Parts in Milwaukee and Surrounding Areas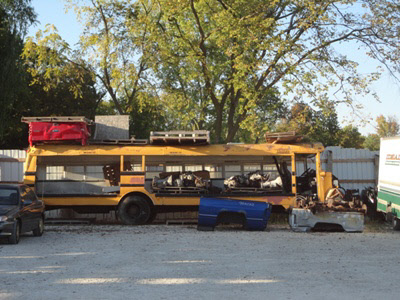 Sure, our backlot may look like a bunch of wrecked vehicles and miscellaneous body panels, but where others see junk we see a gold mine of auto parts. In this photo you can see a front quarter panel leaning up against an old school bus destined for the scrapping yard, but there are literally hundreds of passenger cars and vans elsewhere on our lot. We harvest the usable parts, then recycle what's left. A car with a demolished front end still has perfectly usable trunk lid, rear bumper and tail lights, right? Why not use them? And why not get them at a great price? When you come to B&M Auto in Waukesha, you always get a great deal on the OEM auto parts you need.
Contact our Waukesha salvage yard today for the recycled auto parts Wisconsin relies on.