Recycled OEM Auto Parts for Cars...and Art!
If You're Looking for Quality, Used OEM Auto Parts for your Car, Our Waukesha Auto Salvage Yard Has What You Need
Probably 98.9% of our customers come to B&M Auto looking for parts to keep their cars on the road. Whether it's original equipment Honda engine parts, a set of rims for snow tires, or body panels to replace dented or rust-ravaged panels, B&M Auto Sales & Parts either has what you need or we can track it down for you.
But…and we know this is a big but…
What If You're a Sculptor Looking for Interesting Metal Parts For Your Creations?
Every so often, we actually get inquiries from artists looking for old car parts they can use to turn into art. We're more than happy to oblige. We literally have piles of old auto parts that aren't in good enough shape to be reused in cars, but are ideal for artists looking for interesting pieces of metal to use to create art.
Are you a metal artist looking for old car parts? Or maybe you have an idea for how to use them to make furniture? Get in touch with us. We'll do whatever we can to help out.
Need a Few Used Auto Parts for a Transformers Sculpture?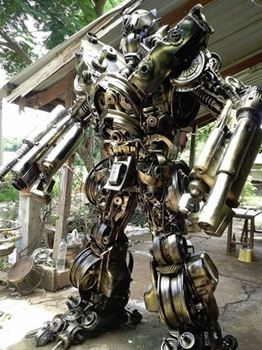 Interested in a 7-foot Megatron sculpture made from old auto parts? This is one of many Transformers sculptures Thai artist Anchalee Saengtai has created.
The only limit on what can be cobbled together with old auto parts is the imagination of the artist. Do an online search for "metal sculpture made with car parts" and you'll be amazed at what comes up. We've seen everything from fanciful sculptures of animals to seating made from the trunks of '57 Chevys and pool tables built on the lower half of '60s Mustangs. Almost makes us want to give it a try ourselves.
Don't worry, though, we're not going to quit our day jobs. B&M Auto has been here for Milwaukee drivers and mechanics for over 60 years and we have no intention of going into the art business. When you need to track down a radiator for a 1978 Eldorado, or a set of snow tires for a winter beater, we'll be here for you.
Now, where'd we put that welding torch?
| | |
| --- | --- |
| | Aussie artist James Corbett started out cobbling together metal sculptures while running an auto recycling business. Hmm... |
| | |
| --- | --- |
| | |
| What gearhead wouldn't want an engine block coffee table? We've seen these priced everywhere from $500 to $4,000+. Nice work if you can get it, huh? | If you're looking for scrap auto parts for sculpture work, we have 'em...by the ton! |