Used Truck Beds and Caps for Sale at Waukesha Auto Salvage Yard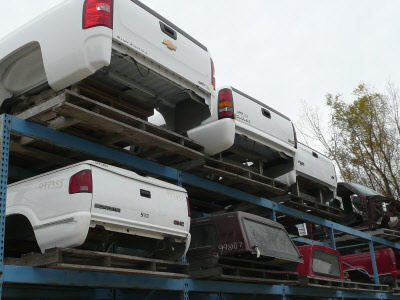 Buy Used Truck Beds for Any Make or Model
B&M Auto has a great selection of quality used truck caps and used truck beds for sale near Milwaukee. We're constantly expanding our inventory to fit a wider range of makes and models. Whether you're looking for a 2000 Chevy Silverado truck bed for replacement or any rust-free pickup bed for repurposing, our Waukesha auto salvage team makes it easy to find the used parts you need.
We sell used truck beds from a variety of trusted manufacturers, including:
All our used truck beds are inspected, cleaned and prepared for resale at our Waukesha auto salvage yard. Search our available used truck parts online or contact us about specific makes/models.

Reliable Service and Parts from Milwaukee Area Auto Salvage
B&M Auto offers the highest quality used truck parts in the Milwaukee area. We take pride in being an Automotive Recyclers Association Gold Seal member for more than 20 years and are dedicated to following the most stringent business practices in the used auto parts and automotive recycling industry.
All of our used truck beds are fully inspected and include a 90-day warranty, 15-day return policy and 30-day exchange policy.
We Find Used Truck Parts for You
If we don't have the used truck bed or cap you're looking for, we'll tap into our online network of over 2,300 other auto parts recyclers across the country and find it for you.
Looking for other parts as well? Check out our full list of parts here.