Project Car Parts: On The Cheap
B&M Auto Is The Salvage Yard Every DIY Mechanic Needs To Know About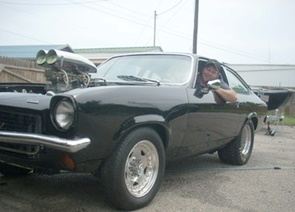 Glory Hallelujah, this could be you...with a little help from the recycled auto parts pros at B&M Auto Sales & Parts.
It's summer, and all across Wisconsin project cars are…collecting pollen in the driveway?
Wait a minute…that's not right! There should be feverish activity in those driveways as dedicated do-it-yourselfers bring these neglected steel carcasses back to life. All too often, though, progress comes to a screeching halt when a critical part can't be found.
Fortunately, B&M Auto Sales and Parts is happy to help. Even though we don't usually have parts for things like a '74 Vega in stock and ready to go, we can find whatever you need. By tapping into the mighty ADP Hollander Interchange computer network, we can quickly search the inventory of over 2,300 auto recycling operations across the country. If what you need is out there, we'll find it and have it shipped here.
You can try our online parts search on our website, but it doesn't connect to all the recyclers across the country. Your best bet is to just email or call us and let us know what you need. We'll get on the national network of auto recyclers and track it down for you.
Parts For Daily Drivers And Beater Cars: When Price Does Matter
If you're just looking for replacement parts to keep your daily driver on the road, our Waukesha auto salvage yard can definitely help you out. Whether it's a set of rims for snow tires, a replacement windshield, battery, or whatever, B&M Auto has thousands of parts for a wide range of late model domestic and import vehicles.
Unlike the "pick 'n pull" auto salvage yards where you have to scavenge through acres of abandoned wrecks with toolbox in hand and wrench off the parts you need, B&M Auto has harvested all the usable parts from the vehicles in our yard, cleaned and inspected them, and inventoried them in our warehouse. All you need to do is let the guy at the counter know what you came in for. We'll get the part out of the warehouse and bring it to you.
Are You A Saudi Arabian Prince In Need Of Parts For A Supercar You Just Crashed?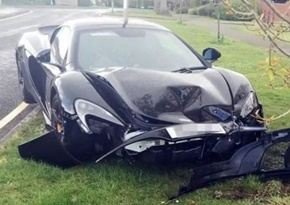 No, Abdullah, this isn't going to buff out. Better call B&M Auto Sales and Parts in Waukesha before Dad finds out.
If you peeled out of the parking lot in your Lamborghini and a streetlamp pole brought you to a sudden stop, you may be in need of some replacement body panels and engine components. Even though you're filthy rich and can probably afford to buy an entirely new car, who can resist a great deal on quality used auto parts? For that, no one comes close to B&M Auto Sales and Parts in Waukesha.
Whether it's a new hood and headlights, or a passenger side door and quarter panel, B&M Auto Parts will search nationwide for the parts you need. Admittedly, it can be a tad difficult finding replacement parts for cars that cost upwards of $500,000, but we'll do our best. It wouldn't surprise us if there are other Richey Riches who totaled their supercars in a manner that had no impact (pun intended) on the parts you need. So if there's a hood for your Lamborghini Veneno out there, B&M Auto Parts will find it.
Thanks to the wonders of the Internet, we have customers all across the United States. No matter where you are, B&M is committed to getting you the parts you need.
The Best Guarantee In The Business On Used Auto Parts
As a Gold Seal certified member of the Automotive Recyclers Association, B&M Auto is committed to your satisfaction. All our recycled auto parts are fully inspected and come with an incomparable 90-day warranty, 15-day return policy and 30-day exchange policy.
Need quality recycled auto parts? Contact B&M Auto in Waukesha now for parts availability.