Waukesha Auto Recyclers On The Art Of Auto Parts Recycling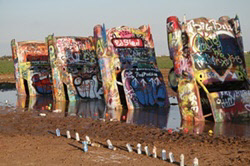 Most of the people who come by our Waukesha auto parts recycling center are just looking for good quality used auto parts to keep their cars running. But there are actually artists who use salvaged cars and old car parts to create art.
Ok, we haven't met any at our Waukesha auto recycling warehouse yet, but apparently they're out there.
One of the oldest and most well known examples of recycled auto art is this row of Cadillacs looking like they took a 45-degree nose dive into the dirt. It's part of Cadillac Ranch, a 1974 exhibit in Amarillo, Texas that's still standing.
Er, leaning.
Salvage Yard Cars And Auto Parts As Art…Say Whaaat?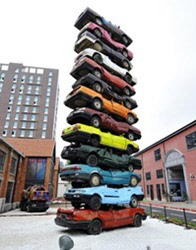 It may seem hard to believe, but making art with old cars and car parts is part of a growing movement in the art world to use recycled and found materials. Just like keeping your car running with recycled auto parts is great for the environment (and your wallet), so too is making art with salvaged and recycled auto parts. Our Waukesha auto recycling specialists salute their ingenuity!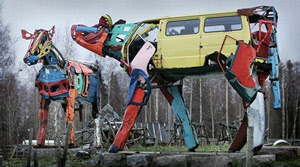 The stack of 13 cars to your left was created by Chinese artists Gu Yuan and Sun Yeli on an old industrial site being transformed into cultural center. While it certainly has a unique quality, our Milwaukee auto salvage experts see a few perfectly usable body panels and we know a lot of guys who would love to get their hands on those used wheels for use with snow tires in Milwaukee. We'd be willing to bet there are plenty of usable engine parts under the hoods, too.
Then there are these enormous, vaguely farm animal-like creatures lurking in a field near a highway in Saariselkä (Disclaimer: We don't know the exact location, so this is just a wild guess.)
You've got to feel sorry for the stranger who comes across these creations for the first time on a dark, foggy night. If they ever want to install some quality used batteries and OEM headlights to brighten up these sculptures, our Waukesha auto parts recycling center will be glad to help.
If B&M Auto Sales Doesn't Have The Part You Need, We'll Find It.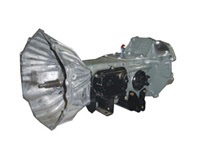 Our Waukesha auto recycling yard has a huge inventory of auto parts—literally thousands of the most commonly sought out parts, as well as our environmentally sound (and affordably priced) recycled coolant. All auto parts have been inspected to ensure they're safe to use and come with the B&M Auto Sales 90-day warranty, 15-day return policy and 30-day exchange policy.
If we don't have what you're looking for when you use the Parts Search page on our website, let us know and we'll track it down for you. Using the ADP Hollander Interchange computer system, a massively powerful network connecting over 2,300 other auto recyclers throughout the US, we're able to locate just about anything you may need.
Even if it's a rusty Corvair transaxle you think would make a good thorax for a metal insect sculpture.
Contact the Milwaukee used auto parts artisans at B&M Auto Sales and Parts to find the quality recycled auto parts you need.